Looking for beauty and inspiration? The possible applications for pavers and flagstone  are only limited by your imagination. Maximize your outdoor living space with a design that is all your own. Create a scenic walkway in a beautiful backyard garden.
LET US HELP YOU DESIGN YOUR PAVER PROJECT: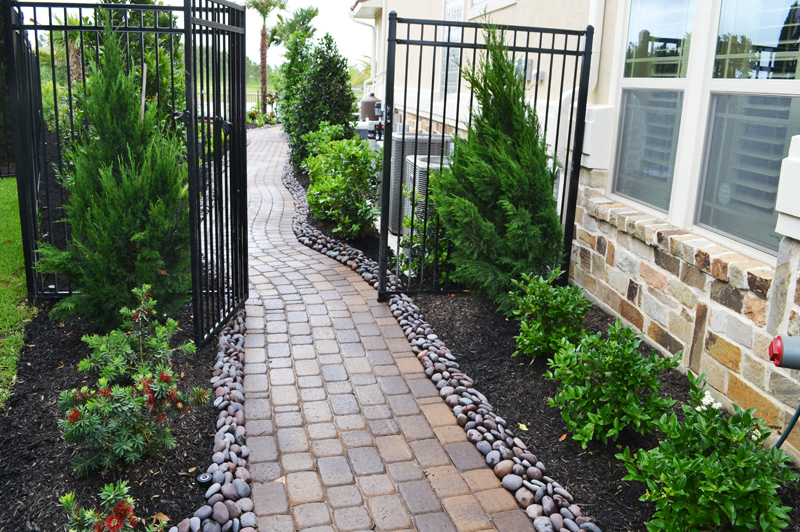 Paver Patio or Paver Over-lay
Paver Walkway
Paver Driveway
Paver Retain Wall
Paver Flower bed Edging

Get back to nature with an outdoor space that is both inviting and stylish. With a wide range of shapes, colors and textures available, you can mix and match to create unique works that enhance natural surroundings and often turn what was once unusable space into a focal point.
See for yourself how paver patios, paver over-lays, paver driveways or walkways, retaining walls and edging can beautify your home.
FLAGSTONE WALKWAYS AND PATIOS:
Exquisite flagstone patios, walkways and more in Katy, West Houston, Richmond and Fulshear. Transform any yard into a private oasis. Explore the unlimited flagstone design possibilities and escape from the stress and demands of everyday life to your sanctuary.  Know that a flagstone design can bring out the best out of your walkways, front yards, patios, and much more. Let us reinvent your surroundings with flagstones, boulders, rocks or pavers.
FLAGSTONE CREATIONS:
Flagstone walkway as a beautiful accent to your home
Flagstone walkways with Crushed Granite
Flagstone Patio to add value to your home and elegance
When properly maintained; flagstone and pavers will outlast cement and asphalt. In addition to its durability, a flagstone or paver design is beautiful and elegant. By laying down your pavers or flagstone properly and using the right materials, you can expect your paver or flagstone design to add beauty and elegance to your outdoor space long into the upcoming future.
Call us today at 281-398-5296 and check our PORTFOLIO of paver and flagstone designs.
PAVER Patios, Walkways, Driveways  (Servicing the Katy, West Houston, Richmond, Fulshear)