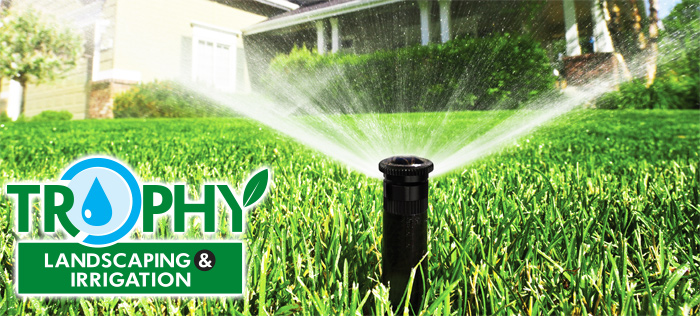 You have just discovered a pool of water bubbling up from underground or a broken sprinkler head with water that is gushing out onto your lawn –now what?  The first thing you should do is be sure to shut off your sprinkler system to prevent flooding, and call the experts at Trophy Landscaping & Irrigation.
We are knowledgeable in  Katy & Houston sprinkler installations and sprinkler system repairs.  With more than 25 years in business, we have a licensed Irrigator on staff and fully trained technicians that are helping homeowners solve their Katy sprinkler repair problems all around the Houston and Katy area.
Irrigation License #18069
Backflow Prevention Assembly Tester #15076
In addition to Katy & Houston Sprinkler repairs and Sprinkler Installations, we also specialize in sprinkler system reroutes, complete sprinkler system evaluations, sprinkler winterization programs and much more!
Wire/Valve Location
Repairing or replacing broken pipes
Capping off sprinkler heads
Diagnosing/Repairing broken sprinkler valves
Raise and straighten sprinkler heads and rotors
Replace or repair damaged wire
Replace or repair sprinkler control box
Replace broken heads and replace clogged nozzles
Lower heads that are too high
Moving heads in areas that have become overgrown causing water puddling and runoff
Our Sprinkler Evaluation Process:
Make sure that sprinkler control box is working properly
Set controller for proper settings based on the season
Customize a watering schedule that will eliminate water run-off based on your soil type
Ensure all zones are working by checking each station zone by zone
Check all heads for proper coverage
Check for dry spots, wet spots and leaks
Identify all heads that are in need of being raised, lowered or straightened
Check rain sensor for proper operation
Give written estimate of recommendations for improvements
Renovating and Rerouting Sprinkler systems:
There are a number of reasons that an existing lawn sprinkler system needs to be renovated or rerouted.  Our experienced sprinkler technicians are efficient at making sure that your sprinkler gets back to top running condition once your yard project is finished.  You can count on Trophy Landscaping & Irrigation to stand behind their work and get the job done in a timely and professional manner.
Reasons why you need help with your sprinkler renovation or rerouting:
Addition of patio, walkway or outdoor kitchen
Hot tub or swimming pool reroutes
Original System installed was not efficient at covering all yard area
Additional flower beds require rerouting or creating new zones
Redesigned Landscaping
Home additions
Landscaping becoming more established over the years
Why is it Important to Winterize your Sprinkler System in Houston and Surrounding Areas:
Your back-flow unit is the heart of your sprinkler system and needs to be protected
Back-flow unit air inlets break due to freezing temperatures
Back-flow unit ball valve on incoming line can break
PVC connected to the back-flow can break and needs to be insulated
Broken Back-flow units can add up to costly repairs or replacements
Last you can rest assured that we back up our work with a customer satisfaction guarantee.  We also provide a warranty for all sprinkler system installs and new parts when doing repairs
Please visit our contact page to set up an appointment for any of your sprinkler needs or call us anytime and we will provided you with great customer service and quality care.